Renovating a bathroom might be both a tricky and expensive endeavor, especially if you do not know how to make the most of the money you intend on investing. On the other hand, if you assess your situation adequately, you should be satisfied with the outcome.
One of the revitalized solutions when bathroom shower setting is concerned is a floor-level shower, so we advise you to check out the following list and figure out whether your bathroom is suitable for this type of venture. Back in the day, floor-level showers were considered a necessary solution, while nowadays they adorn bathrooms crafted with style. Thus, see the ways to check if your place is suitable for such an upgrade in the rows below.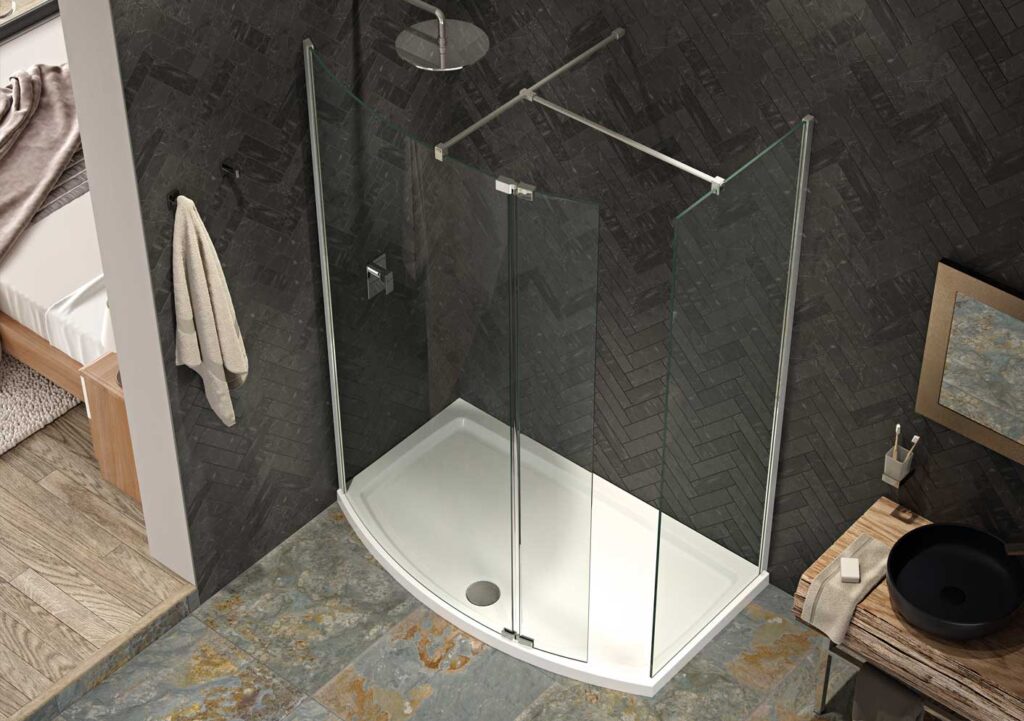 Inclination
Reasonably, the first thing you should consider when floor-level shower settings are in question is the inclination of your bathroom. Namely, the positioning of the floor should be performed with utmost precision due to drainage needs. In a nutshell, if the inclination is insufficient, the surplus water will tarry, which would cause unnecessary mold and other humidity-related issues.
On the other hand, if the inclination exceeds the ideal positioning, the ground you walk on might be not as pleasant to stand on as one would hope for, which would affect both the comfort and the visual appearance of your bathroom.
Fortunately, if necessary, the aforementioned issue is easy to be solved, as long as you hire professional craftsmen who know what they are doing and are up to the task.
Bathroom Layout
One might consider installing a floor-level shower for various reasons, ranging from aesthetics to space-saving features this solution provides. Therefore, the next thing you should worry about is the size and layout of your bathroom.
One of the deciding factors why people opt for floor-level showers is minimal space consumption. Namely, some versions allow the users to use the space reserved for the shower when it is not being used. Other versions do not require additional enhancements that would occupy the rest of the room.
Now, if you already have a bathtub, a hot tub, or any other similar bathroom accessory installed, you might consider whether investing in a floor-level shower is a good solution. In the end, it is up to you to decide what you want, but we should emphasize that removing the aforementioned would not only squeeze additional sums of money out of your pocket but also last longer.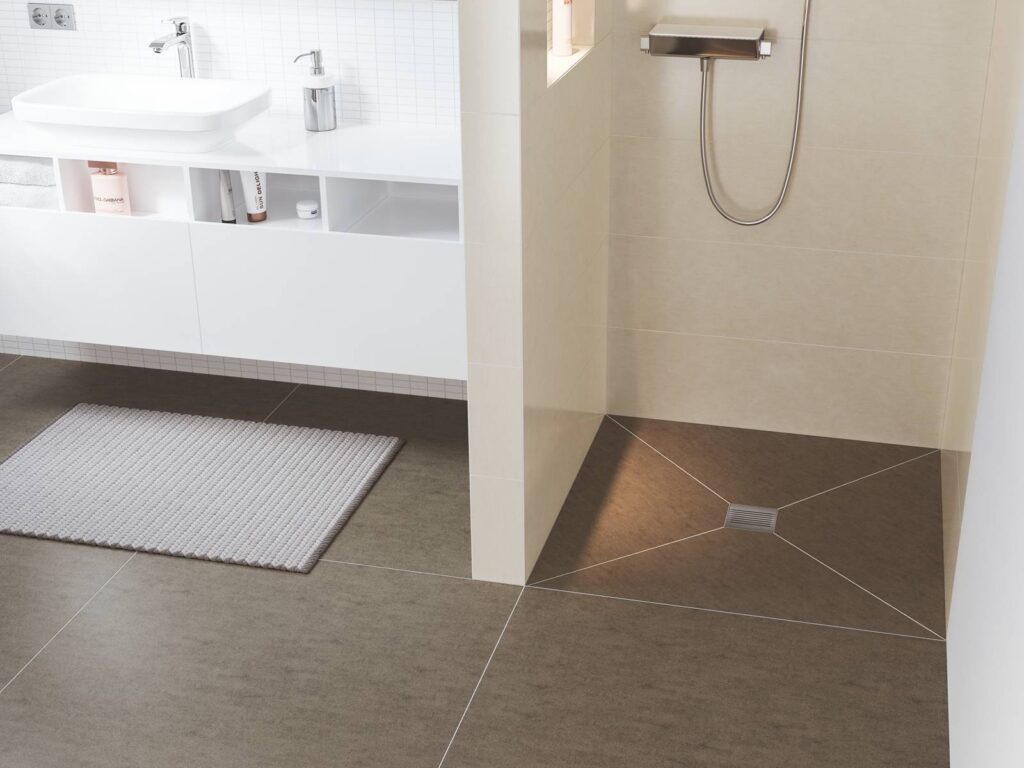 Drainage
Yes, we know that you know where the surplus water should end up. Wherever the drain takes it, right? And the perfectly looking tiles should remain moisture-free as soon as you are done with the shower… Unfortunately, that is not always the case, and people often struggle with mold and other damp-related issues as the ultimate consequence.
Now, if a floor-level shower is what you definitively want to upgrade your bathroom with, then you must think about the drainage. Even though a vast majority of the water you spill on the tiles should and will end up down the drain, a significant portion might get absorbed on the way due to a bad tile job. The mold you notice on the tiles is just a cherry on the top, since the most serious issue is what you might find out about only after it is too late to do something about it and prevent the damage done.
Thus, to secure your bathroom is adequately insulated, and that the only thing that works as drainage is the drain itself, you must inspect your bathroom's current condition. In order to find additional info on what a properly working bathroom setting should look like, visit Wedi and see what pieces of advice they might share with you.
Ventilation
Any bathroom requires decent airiness since the bathroom processes water in many forms. Jokes aside, but you should be aware that not all the water will go away through the drainage easily, no matter how good the tile job and the insulation might be applied. Instead, it will stick to the walls of the bathroom due to condensation and slowly drip away leaving suitable conditions for mold formation.
That is if you do not have either an adequate ventilation system or other means of airing your bathroom. If you have a bathtub or a similar bathroom accessory, the surplus water will drain down the walls to the edges, while with the floor-level shower, the excess would end up down on the floor where you would be able to rid of it easier. In a nutshell, ventilation takes care of the surplus so you do not have to worry about mold accumulation.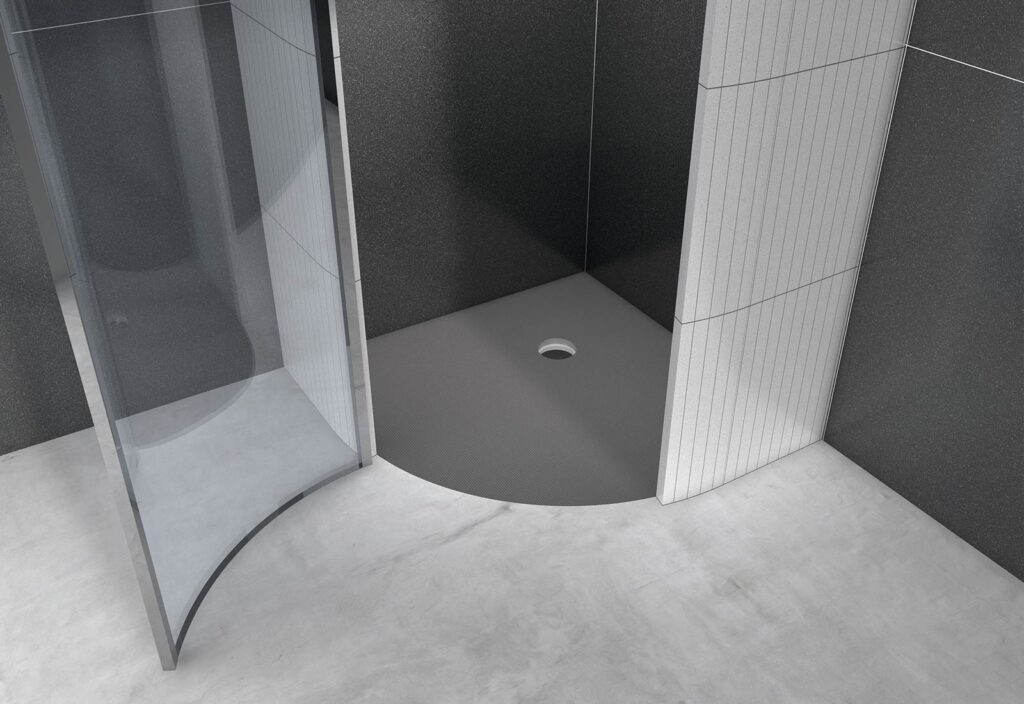 Lack of Space
If you reckon your bathroom fails to deliver the comfort you expect due to lack of space, then a floor-level shower could be just what the doctor ordered. Namely, we have already mentioned that floor-level showers were considered an economical way to deal with interior challenges in the past, but that does not mean that you cannot enjoy a state-of-the-art floor-level shower worth admiring.
Surely, every potential solution has its pros and cons, but this one is easy to manipulate and adjust to any particular set of wants and needs. Therefore, if you are working on a limited budget and space, we have great news for you, since a floor-level shower can bring you the most bang for the buck. Reasonably, the opportunities might be limited, but we are positive that you will be able to fit something decent into the amount you feel comfortable spending.
On the other hand, even if you have unlimited funds reserved for a bathroom renovation, but also a lot of space at your disposal, a floor-level shower could be just the thing your bathroom might need. Namely, this type of shower solution does not have to stand on its own but can perform as an addition to a bathtub, or any other bathing facility you might have. Surely, if you have the space that needs to be filled with something of true aesthetic value.
In the end, you might combine everything aforementioned, such as limited and unlimited budget, with lack or excess space. With adequate adjustments, a carefully envisaged floor-level shower can be an ideal solution for any bathroom. Thus, do your homework and assess your options in detail before making any decisions and be sure you will enjoy your new bathroom setting even more than expected if you consider and apply what we discussed in the lines above.